These are more ideas than suggestions:
Firstly, The website and Forum is awesome, and a great place to chat and discover. It also looks great and is easy to use.
Ideas:
- The background of the website is really fitting, but it's also quite dark. This is by no means necessarily a bad thing, but it may be better to have a background that is easier on the eyes and that can be seen more on the sides. If Will wants, I could look at designing a background?
- Also, to flow with the background (as it currently does), the colour of the backdrop and boxes could be something to match a new background. This of course would also mean an 'easier on the eyes' colour scheme (such as green/blue).
- Additionally, boxes and buttons (relate to picture below, hard to describe :/ )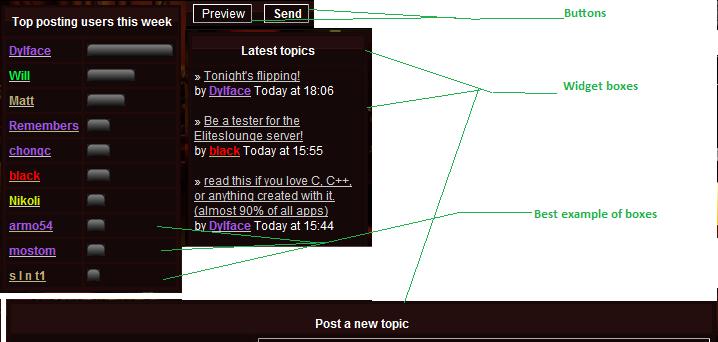 could be rounded slightly, as this improves the visual appeal and makes everything look a bit more distinct and neat.
- The Subscribe, Flip Hints etc. buttons at the top of the page are of course meant to be obvious, but I feel they could do with a bit of downsizing to fit in one row along the top.
- I think that the comment rating system could also be improved slightly, I did not notice it's location until today. I believe it should be either larger, or in a more distinct place(s) such as the top or bottom of a post.
That's a few ideas that I could just think of, I could come up with many more.
Of course, Will, you don't have to pay any attention to me, and in addition, ERSL looks and feels great as it is. I understand if you think these are bad ideas and if you want to keep the 'House style' you currently have.
Respect and Regards,
Dylface